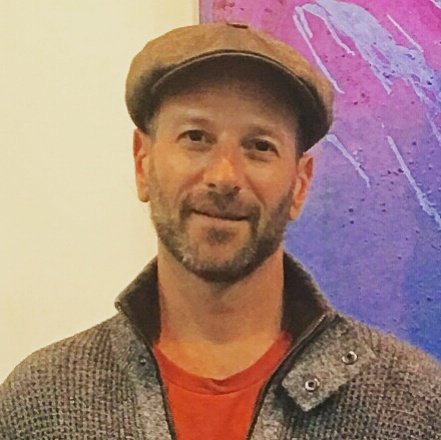 Born and raised in London, Paul has lived across the US for the last 25 years. Always an artist, methods and process have come from many deep and long periods of travel, meditation, emotional, spiritual and astral experience. Discovering a mystical path at an early age, finding an individual and unique way has been a journey of self awareness, raw experience, strange spiritual initiations and many years of personal study and practice.
What is discovered is a 'dynamic process', where awareness of internal experience and a connection with the creative forces of the universe is found. Confronting the many conundrums of time and space, the beauty of what we have and what has been lost is texturally explored, revealing patterns and depths in the endless layers of formless form behind the nature of the seen and unseen world.
Coming together and falling apart, rare moments of elemental collisions and transformations are captured. Connecting the personal with the universal, within Nature and the co creative act, Spirit is found to exist 'at large'. Moments of epiphany and beauty are encountered in our constantly changing world. The energy of the Earth, the star dust of space, and the neutinos we are - all of these considerations come into focus as the world is seen close up and from a great distance, standing on this rock in space.
1987- 1992 University College School, London
1993 - 1995 Edinburgh University & Edinburgh College of Art, Scotland.
1997 - 2002 Worked in Film Production in London and LA
2003 - 2004 School of Applied Arts, Denver CO.
2003 - 2007 Interior Arts/ Surface Design Commissions, Vail Colorado
2011 - 2013 Owner/Director of PS Project Space in Chelsea NYC.
RESIDENCIES
2000 New Buffalo Artist in Residence, Taos NM
2002 Globeville Studios Artist in Residence, Denver CO
2004 Artist Residency, Vail CO
2008 SVA Public Art Summer Residency NYC
2009 Red 03 Galleria, Artist Residency Barcelona
2009 David and Julia White Artist Residency, Costa Rica
2010 Kalulau Artist Residency, Hawaii
2016 American Tin Cannery, Artist Residency, California
GROUP SHOWS
Art Hamptons, Davidson Art Advisory, Bridgehampton Museum NY 2017
Meaning Made Visible, Cherry Center for the Arts, Carmel CA 2017
Bombay Sapphire Artisan Series, San Francisco 2016
Land + Earth, Alex Ray Projects San Francisco 2016
San Francisco Decorators Showcase 2016
Art Santa Fe, NM, Decker Fine Arts July 2015
Scope Art fair, NYC, Titled Projects March 2015
AAF Hamburg, Thomas and Paul Gallery 2013
An Abstract View, Thomas & Paul Gallery, London 2013
Beautifully Broken, Projekt NYC @ Von Lounge 2013
Holographic Light lounge, Tasmania, 2013
The Traces, PSPS, NYC, 2013
Young Collectors exhibit, Leila Heller Gallery; NYC 2012-13
'Global positioning system' SVA gallery, NYC; 2012
Traveling Light, PSPS, NYC, 2012,
'Its a small small world,' Family Business, NYC; 2012
The Four Elements, PS Project Space , NYC, 2012
Benefit for Ai Wei Wei, White Box, NYC; 2012
'No Comment' Loft in the Red Zone, 23 Wall St, NYC; 2011
Geronimo Intervention -The Armory Fairs NYC- VOLTA, Pulse, ADAA, 2011
RHM Benefit, Marianne Boesky Gallery, NYC 2011
CFDA Council of Fashion Designers of America Lounge Exhibit, NYC, 2010
Alliance for the Arts Auction, Christies, NYC 2010
Art Santa Fe; Volume Black Gallery NYC 2010
'That Gallery' Hong Kong, 2010
Seven Seas Gallery, Nantucket, MA 2010
KiptonArt Santa Monica CA, 2010
Red03 Galleria Barcelona, Spain 2010
Artists for Dalai Lama, Frankfurt Germany, 2009
Lana Santorelli Gallery NYC 2009
AFI Times Sq Building, United Creators, NYC; 2009
Bang & Olufsen, United Creators, NYC Frankfurt & Istanbul 2009
SVA Public Art Residency Exhibit, NYC, 2008
Paper works'BJ Spoke Gallery, Huntington NY 2008
B & O Munich, United Creators,Frankfurt: Istanbul. 2008
Finding lost Time' NYC Art in Odd Places. 2008
Lana Santorelli Gallery NYC, 2008
Broadfoot and Broadfoot Gallery, NYC 2007
Kolok Gallery, North Adams, MA 2007
Soke Fine Art. Vail CO 2006
SOLO EXHIBITS
Bushwick Open Studios 2014, NYC
Light from a Stone, 2012, PSProjectSpace NYC
Color Shift 2012, Baco Gallery, BK NY
The Ninth Wave 2011, PSProjectSpace NYC
Alchemical Skins 2010, Baco Gallery, BK NY
Post History 2010 - PSProjectSpace NYC.
Totems 2009, Red03 Gallery, Barcelona
Pigment and Patina, 2007 Midoma Gallery, New York, NY
Soke Fine Art, Vail Valley, CO 2006
Globeville Studios, Denver CO 2005, 2004, 2003,
Woburn Gallery, London WC1 2001
The Engineer, London NW1 2001
BIBLIOGRAPHY
Monterey Herald, March 2017
65 / 57 Degree Magazine March 2016
Silverlake Voice December 2014
New York Times June 2014
Vogue June 2013 (works in private collection of Joshua Bell )
PRIVATE COLLECTIONS
Joshua Bell
Jeff Wolk
Hoffinger Family
Ketchum Family
Roberts Family
Robert Hernreich
Dyer Family
Pine Street Group
Wyndham Group
Longchamp Group
Hodes Weill Partners
Los Family
Okun Family
Fenjves
Barsoom
Twomey
Leffler
Canfield
Weaver
Killerlane
Sprayreagan
Magus
Davidson
Bercho
Krebs Family
Stein Family
Carriage House NYC